UT181A True RMS Datalogging Multimeter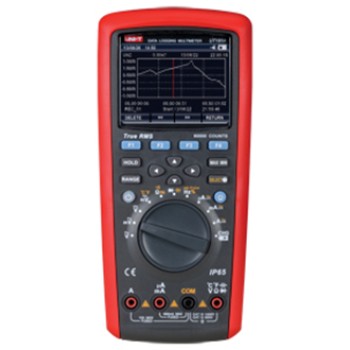 Features:
1. 60000 display count, 320X240  3.5"TFT full color LCD, Multi-function selection menu, displaying multiple sets of test data simultaneously
2. AC/DC Voltage, AC/DC current, resistance, conductance, diode, capacity, frequency, duty cycle, pulse width, temperature(℃/℉) 
3. True RMS, Ac voltage bandwidth 100KHz, Ac Current bandwidth 100KHz, alternative AC/DC measurement
4. Single record data with time remarked, max data logging is 20000,checking and deleting the data
5. Continuous record data with time remarked, max data logging is 20000. Checking the data by tracing the trend chart, which  makes it possible to detect the abnormal signal with the supervisors,Naming, checking and deleting the records
6. Time signal can make in capture wave form  under maximum mode / minimum mode / average mode
7. In sync on step wave signal
8. Measuring current can reach at 20A (switch on 30s, pause 10seconds)
9. Using USB(standard accessory) to connect to PC to proceed USB communication . It can use Bluetooth module(alternative accessory) to proceed Bluetooth communication with cellphone
10. Having the function of alarming when test-lead misplug. Double injection safety shell and IP 65 waterproof.
11. Help Menu, offering  convenient instruction for users
12. Rechargeble  Lithium battery, having long lifetime.
Specifications
Range
Best Accuracy
Model
 
UT181A

DC Voltage (V)

60mV/600mV/6V/60V/600V/1000V

±(0.025%+5)

AC Voltage (V)

60mV/600mV/6V/60V/600V/1000V

±(0.3%+30)

DC Current (A)

600μA/6000μA/60mA/600mA/10A

±(0.08%+10)

AC Current (A)

600μA/6000μA/60mA/600mA/10A

±(0.6%+20)

Resistance (Ω)

600Ω/6kΩ/60kΩ/600kΩ/6MΩ/60MΩ

±(0.05%+2)

Admittance(nS)

60nS

±(2%+10)

Capacitance (F)

6nF/60nF/600nF/6μF/60μF/600μF/6mF/60mF

±(2%+5)

Frequency (Hz)

10Hz-60MHz

±(0.01%+5)

Temperature (°C)

-40 °C~1000°C

±(1%+30)

Temperature (°F)

-40°F~1832°F

±(1.5%+50)

Features

Display Count

 

60000

Auto Range

 

√  

Manual Range

 

√  

True RMS

 

√ 

Bandwidth (Hz)

100kHz 

√  

AC + DC 

 

√  

Low Pass Filter

1KHz(-3db)

√ 

dBV/dBm

 

√  

Continuity Buzzer

 

√  

Diode

Around 3V

√  

Duty Cycle

 10% ~ 90%

√  

Dual Temperature Measurement

T1,T2, T1-T2,T2-T1

√  

Data Hold

 

√  

Peak Hold

 

√  

Relative Mode

 

√  

Data Logging

20000

√ 

Trend Capture

 

√  

MAX/MIN/AVG

 

√  

Date Time Display

 

√ 

Data Comparsion 

 

√  

Display Type 

3.5 Inches 64k Color TFT LCD (320 * 240)

√  

Backlight Adjustment

 

√  

Analogue Bar Graph

61

√  

USB Interface

 

√  

Mis-Plug Alarm

 

√ 

Low Battery Indication

 

√  

Auto Power Off

 

√  

Re-Chargeable Battery 

 

√  

Input Protection

 

√  

Input Impedance for DCV

Around 10MΩ

√  

General Characteristic 

Power

7.4V 2200mAh Li-Battery

LCD Size

70mm × 52mm

Product Color

Red and Grey 

Product Net Weight

638.6 g 

Product Size

103mm × 225mm × 59mm 

Standard Accessories

Batteries, Test Lead, Temperature Adaptor, Point Contact Temperature Probe × 2, Power Adaptor, PC Software CD, USB Interface Cable

Optional Accessories*

Bluetooth Adaptor (UT-D07)
Related Products