Our company will remain closed from 11-8-2022 to 29-8-2022 for summer vacation.
All orders will be processed on early September.
SDS1102CML+ Digital Oscilloscope 100MHz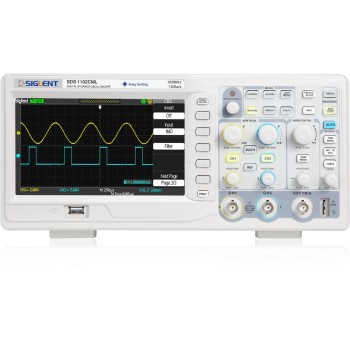 ● The highest Single real-time sampling rate can be up to1GSa/s.Equivalent sampling rate is up to 50GSa/s.
● Memory Depth: 2Mpts
● Trigger types: Edge, Pulse Width, Video, Slope, Alternative
● Unique Digital Filter function and Waveform recorder function
● Support Pass/Fail function.
●Thirty two parameters Auto measure function.
● Save/recall types: Setups, Waveforms, CSV file, Picture.
● Support Multilingual On-line help system
● Waveform Intensity and Grid Brightness can be adjusted.
● Support twelve types Language
● Standard Configuration Port:
USB Host: Support USB flash driver save/recall function and update firmware;
USB Device: Support PictBridge compatible printer and support PC
RS232
Pass/Fail Output
LAN ETHERNET
SIGLENT SDS1102CML+ DIGITAL OSCILLOSCOPE TECHNICAL SPECIFICATIONS
Bandwidth : 100 MHz
Channels : 2 + 1 ext. ch.

Real time sample rate : Single channel mode: 1 GSa/s

Dual channel mode: 500 MSa/s
Equivalent sample rate : 50 GSa/s

Memory depth : 2Mpts
Vertical sensitivity range : 2 mV/div – 10 V/div

Vertical resolution : 8 bits

Rise time : ≤3.5 ns

Time base range : 2.5 ns/div – 50 s/div
Input impedance : 1 MΩ || 17 pF
Cursor measurements : Manual, Track, Auto measure

Math : Add, Subtract, Multiply, Divide, FFT
Trigger modes : Edge, Pulse, Video, Slope, Alternate

Storage : Internal: 20 setups, 10 waveforms (storage/recall), 2 reference waveforms

External (USB): BMP, CSV, waveforms and setups
Input coupling : DC, AC, GND

General Characteristics
Display: 7" (178 mm) TFT color LCD (800 × 480)
Interface: USB Host, USB Device, LAN Ethernet, RS-232, P/F output
Power Source: AC 100 ~ 240 V, 47 ~ 440 Hz, 50 VA Max
Max. Input Voltage: 1 MΩ 17 pF 400 V (DC + PK-PK) CATI, CATII
Weight: 2.5 kg
Dimensions: 305 × 133 × 154 mm

Related Products