ULTRASONIC Bath 15L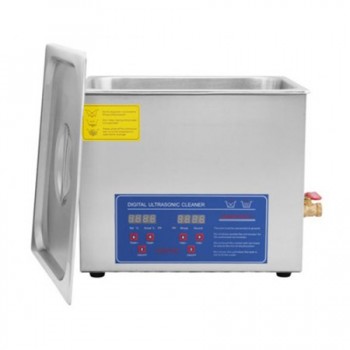 The ultrasonic cleaner is a microprocessor-controlled device that uses ultrasonic or high frequency sound waves to clean delicate items.
Ultrasonic cleaning is based on the cavitation effect caused by high frequency ultrasonic wave vibration signals in fluid.
Microscopic bubbles that expand and rapidly collapse cause cavitation, which creates an effective cleaning action on the surface of object being cleaned. Additionally, the bubbles are small enough to penetrate even microscopic crevices, cleaning them thoroughly and consistently.
For better and faster cleaning is recommended to use a universal concentrate, which increases cleaning efficiency.
Applications:
Professional Use:
Tattoo Shops, Scientific Labs and Golf Clubs.
Jewelers, Opticians, Watchmakers, Antique Dealers and Electronics Workshops etc.
Personal or Home Use:
Jewelry: Earrings, Necklace, Rings, Bracelets and Diamonds.
Glasses and Timepieces: Glasses, Sunglasses, Optical Lenses, Contact Lens Accessories, Watch Chains and Waterproof Watches.
Commodities: Tattoo Guns and Tubes, Electric Shaver Heads, Razor Blades, Dentures, Combs and Toothbrushes.
Stationery: Pen-heads, Printer-heads, Inkjet Cartridges and Seals.
Metal Articles: Ancient Coins, Badges, Valves, Machine Nozzles, Electronics Components and Mechanical Parts.
Metal Dishware: Forks, Knives, Spoons and Other Small Silverwares etc.
Features:
- Dimensions of the pool: 330 x 300 x 150 mm
- Capacity: 15L
- Ultrasonic frequency 40 kHz
- Power: 360W, 400W with heater
- Bath is made of stainless steel SUS304
- Power Supply: AC 220-240V 50 Hz
- Set time: 1-30 minutes (LED digital display)
- Adjusting the temperature: 0-80 ° C
- Universal application
- Size of cleaner : 360 x 330 x 330 mm
Package includes:
- Ultrasonic cleaner ELASON 15L
- Basket of stainless steel
- Cover including the drain valve
Related Products