Our company will remain closed from 11-8-2022 to 29-8-2022 for summer vacation.
All orders will be processed on early September.
ULTRASONIC BATH 800ml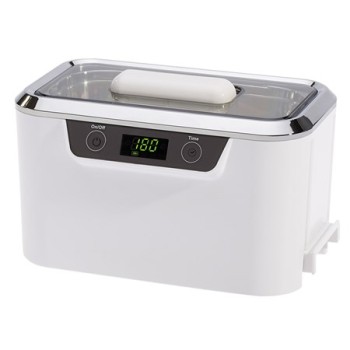 Product Features:
- Water Safe Isolated-Circuit Design.
- Large Digital Timer Display for Precise Cleaning Time Control.


Applications:
Jewelry and Watches: Necklaces, Earrings, Rings, Bracelets, Coins, Watches Straps and Band etc.
Eye Care: Glasses, Sunglasses, Contact Lens Accessories.
Daily Personal Care: Dentures, Combs, Toothbrushes, Table-wares.

Specification:

Ultrasonic Frequency: 42000Hz
Technical specification:
Timer settings: (3min) 180s, (5min) 300s, (8min) 480s, (10min) 600s, (1,5min) 90s
Power supply: 220 - 240V AC ~ / 50Hz, 60W
Ultrasonic frequency: 42 000 Hz
Tank material: Stainless steel SUS304
Cover material : ABS plastic
Dimensions: 220 x 138 x 141 mm
Tank volume: 800ml ( max: 650ml , min: 200ml )
Power cable length: 1,6m


Related Products